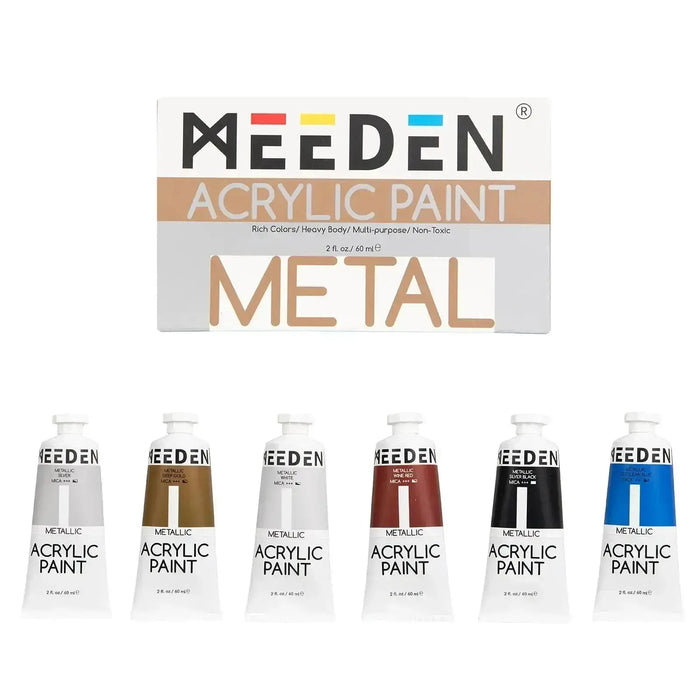 MEEDEN Metallic Acrylic Paint Set, 6 Tubes, 60 ml / 2 oz
Original price
$16.95
-
Original price
$16.95
METAL-LIKE COLORS: Need to point something out to gain attention on your painting? The MEEDEN metallic acrylic paints can be perfectly competent. MEEDEN provides 6 (120ml/tube) colors in a well-designed package.

RICH PIGMENTS: Well-ground through a traditional steel three-roll mill to make the paste delicate with fineness dia less than 35μm. Not only can you experience smoother strokes, but it also adds extra luster to your artwork and make overall performance brighter.

UNIQUE METALLIC EFFECT: Industrial style, mysterious lusters, some really nice touches... all you want, the MEEDEN metallic acrylic colors can ideally be qualified. The rich metal-like paste can give your strokes a shimmering finish.

UNLIMITED USAGE SCENARIOS: When dry, MEEDEN acrylic can form a permanent, non-yellowing, lightfast paint film that is non-resoluble. So, the standard canvas, handcrafts, models, shoes, fiber, and home decorating applications are obviously perfect.