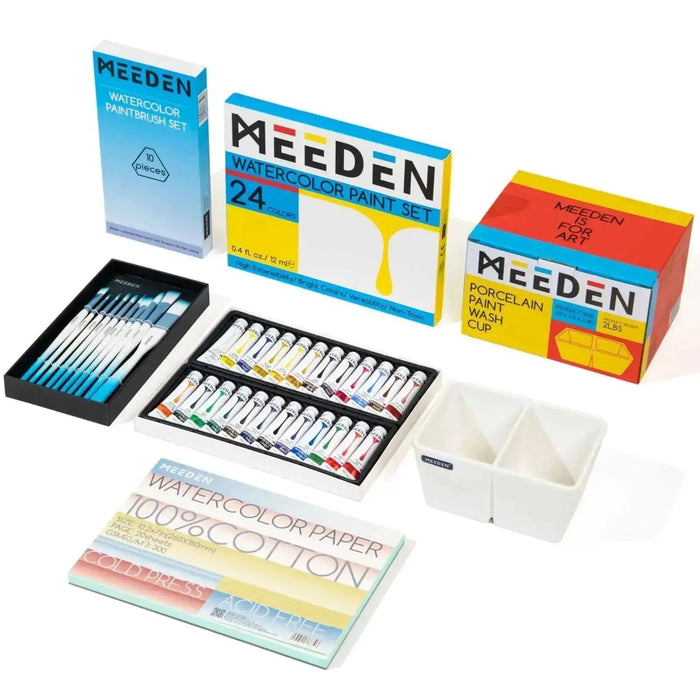 MEEDEN Watercolor Paint Set with Brushes, Paper, Brush Wash Bowl, 24 Tubes, 12 ml / 0.4 oz
Original price
$39.95
-
Original price
$39.95
ALL YOU NEED to GET STARTED - Our watercolor painting kit with everything you need to paint. Including 24 colors watercolor paint set, 10 pcs watercolor paintbrushes, 20 sheets of watercolor paper, and 1 pcs ceramic paintbrush wash cup. Suitable for all painting-level watercolor lovers. Well worth the money.

24 VIBRANT COLORS: Your premium watercolor paints bright vision, strong tinting power, excellent clarity and depth, and good saturation. Each color has been carefully selected. Generate endless colors to fulfill all the needs in your color range by easy color mixing. When mixed with water, the effect of color transparency can be achieved. The artwork is clear, transparent and bright.

NON-TOXIC STATEMENT: MEEDEN watercolors are certified to AP, CE, and ASTM D-4236 standards and comply with solvent & acid-free, harmless elements and 100% environmental principles. From art watchers to seasoned artists and toddlers to the elderly, the set will suit them just fine.

WATERCOLOR PAINTING TOOLS MIX: The set includes 10 brushes in different sizes and types and has 20 sheets of watercolor paper and 1x ceramic paintbrush wash cup. All you need to do is go with your imagination, then paint!