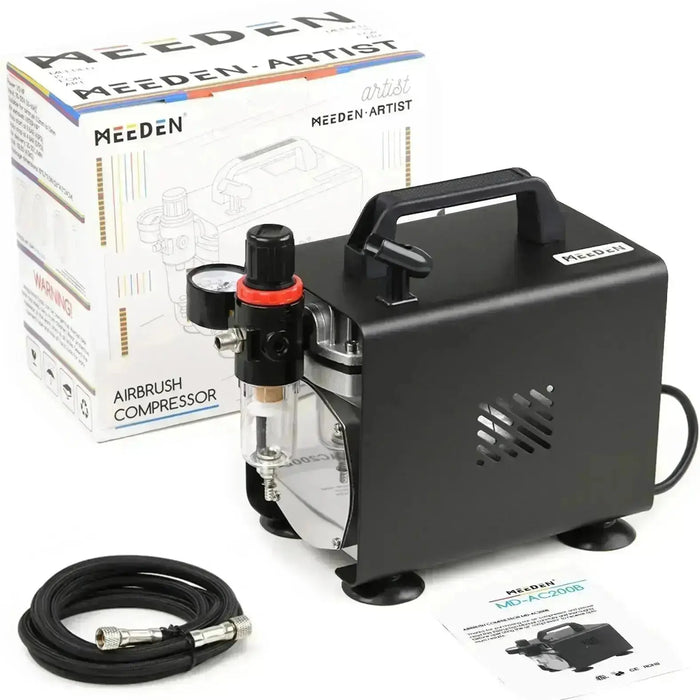 Airbrush 1/5 HP Auto-Stop Airbrush Compressor
Original price
$94.95
-
Original price
$94.95
ELECTRONIC PARAMETERS: The air pump provides 150W dynamic; the Long-last piston costs little maintenance and is oil-need-free. The quality rotor winding can extend the compressor's service life big time, and an inner fan to dissipate thermal by providing 23L/ min wind power.

OTHER ACCESSORIES: With an extra handle, you could pick it up and go on anywhere. The body also contains a 1/5'' soft hose, a spray gun holder, an external visual barometer, and an air filter. ALL-IN-ONE, push the button, and get the fun beginning!

APPLICATION: The output power suits all gun tips within 0.2-1mm diameter, and the joint can connect a 1/8"diameter spray gun. Ideal for cake and other food decoration, or body tattoo beauty and makeup, it is a good choice, suitable for artists Or beginners to spray fine works, crafts, and models.

OTHER FEATURES: The included air supply hose is 6 feet long and has a moisture air filter. The air compressor comes with an electronic self-stop function for long-life protection of the air compressor.