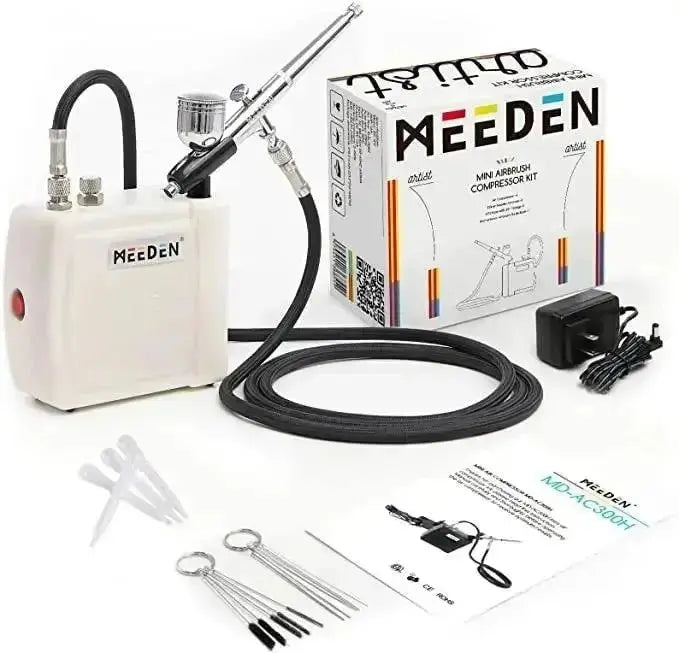 MEEDEN Mini Airbrush Kit with Compressor, Dual-Action Gravity Feed 0.5mm Airbrush
Original price
$59.95
-
Original price
$59.95
PRACTICAL STARTER'S KIT: The kit contains a basic air compressor, gravity-feed airbrush, and an afterward washing kit. With it, you no longer need additional accessories to start experiencing airbrushing.

THE AIRBRUSH: The MEEDEN AR35 airbrush comes with the kit-quality airbrush that provides smooth handling with a 0.5mm tip and a 0.7cc vol cup. Push the trigger, and feel the precise strokes it can bring.

COMPACT COMPRESSOR: Portable but outstanding-functional. It only weighs 8lb and can provide max air pressure of up to 21 psi with an airspeed of 10.5L/min.

OTHER ACCESSORIES: Comes with a maintenance kit with 10 different sizes and kinds of washing brushes. From start to finish, we want to be perfect.

MEEDEN for ULTIMATE SATISFACTION: MEEDEN is more like a family with hundreds of members wholly dedicated to helping you succeed in your artistic endeavors through high-quality, unique art supplies. And like a family, we stick together, and if anything goes south, you can always rely on MEEDEN, through thick and thin - give us a little sign - a mail, a call, or a message.