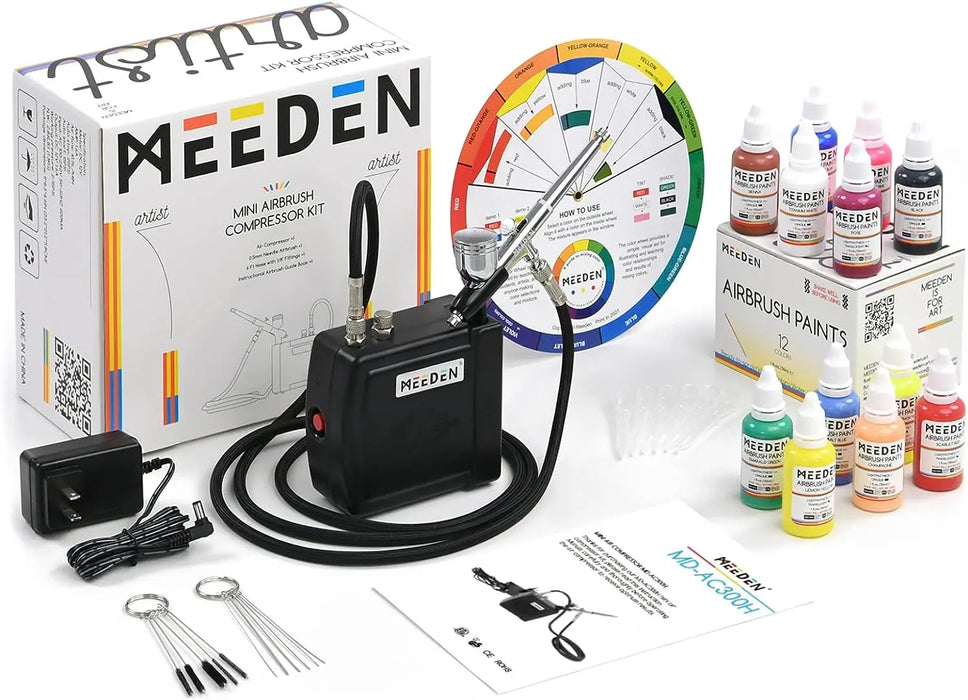 MEEDEN Black Mini Airbrush Set, 12 Colors
Original price
$89.95
-
Original price
$89.95
Airbrush Essentials Kit: The kit features the AR35, a dual-action, internal-mix, precision premium-quality airbrush for a comfortable feel in your hand. The kit also comes with a quiet and efficient compressor, auto-start and stop, and delivers 21 PSI. User-friendly airbrush cleaning brushes for cleaning after spraying.

Dual Action Airbrush AR35: 0.5mm needle/0.7cc gravity cup. Featuring airbrushes with dual-action functionality, easy to use, a single press of the trigger releases both air and paint, and is less prone to clogging. The dual-action, internal-mix design controls both air and fluid, ideal for precise, sharp details.

Compact Black Compressor: Paired with the Model AR35 is the portable yet powerful BM-0004 Compressor, Made in high-quality precision components, Quiet and efficient, and maintenance-free. Weighing just 8lb, with a maximum of 21psi (0.37 CFM) air pressure, it's the perfect complement to the Model AR35 Airbrush.

Multifunction Airbrush Set: It's an ideal airbrush kit for beginners and students, as well as for advanced artists. Since it works excellently for most airbrushing applications and also with most types of paint spray media. It's ideal for hobbies, crafts, auto graphics, temporary tattoos, cake decorating, fine art, nail art, and more!