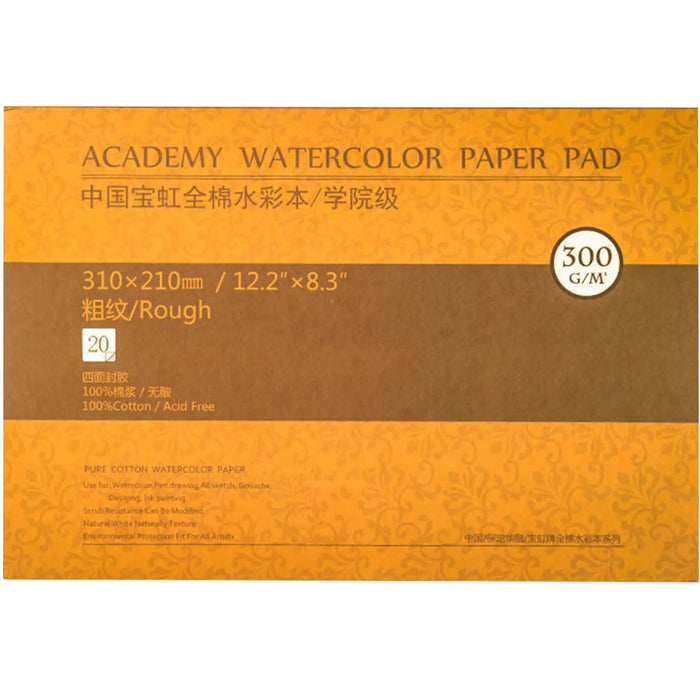 MEEDEN 100% Cotton Watercolor Paper Pad, 12×8", Rough, 140lb/300gsm
Original price
$23.95
-
Original price
$23.95
Superior Painting & Drawing Pad: Made from 100% pure cotton, 140lb/300gsm heavyweight watercolor papers, acid-free and chlorine-free, pH-neutral and archival, durable and strong enough for wet, dry, or mixed media painting, and less likely to curl or warp.

Rough Grain Pad: Watercolor papers have a slightly textured surface, which is between that of rough and hot-pressed papers, allowing for a variety of watercolor techniques, and watercolor papers made from cotton would hold more color and with perfect water absorption.

Glue on All Sides: 20 sheets per pack and all these papers are glued bound for watercolor painting, easier tearing off with a plastic knife and a hardboard underneath for better protection and control.

Size: 8" x 12" in size, perfect size to take within travel and ideal for beginning artists, students practice and art exams, a great gift for watercolorists and enthusiasts.

Versatile: Compared to Other Watercolor Papers, these cotton watercolor papers are both of high quality and reasonable price, whether you are painting with watercolor paints, markers, pencils, ink, charcoal for painting, sketching, printmaking, or drawing, these papers would provide optimum performance and deliver extraordinarily brilliant color results.