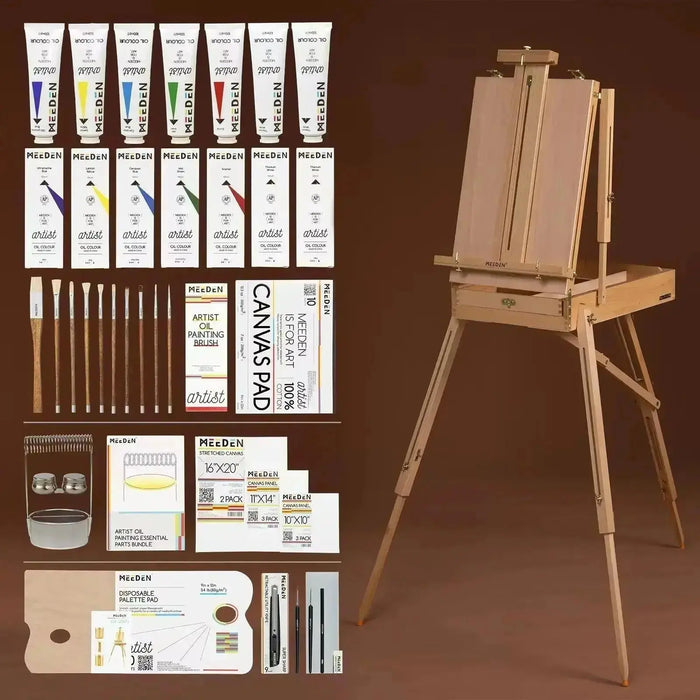 MEEDEN Artist Oil Painting Set, 7 Tubes, 100ml / 3.38oz
Original price
$179.95
-
Original price
$179.95
ALL-INCLUSIVE OIL SET - The MEEDEN artist oil painting kit, with gift box packaging, is designed for artists, especially art enthusiasts! The set included canvas, paints, brushes, an easel, and drafting supplies. Thanks to the foam protection and the thoughtfully prepared gift package, you may start your artistic adventure from this point, one-stop and safely.

CLASSIC FRENCH EASEL- Made of solid German beechwood and anti-rust galvanized hardware, the all-in-one easel will last for years. The top and lower sliders can handle most canvas sizes, and the adjustable angle ranges from 0° to 90°. Its spacious inner storage drawer and exterior leather handle are also great for on-the-go painting.

ARTIST-GRADE PAINTS & CANVAS - Artist-grade oil paints, presented by MEEDEN in 2022, are produced of only pigment and medium (7-color 100 ml). It's creamy and has just the appropriate amount of oil after finely grinding and thoroughly mixing, and it'll work perfectly in your masterpiece. Also, you'll save much trouble when you start painting with the provided varied sizes of canvas and canvas pads!

UPGRADED BRUSH SET - Handcrafted of high-quality bristle and solid rosewood, this brush set includes 10 various sizes and kinds of brushes, allowing you to quickly make whatever stroke you choose. Quality rosewood and ergonomic handles can add to the whole new experience. It also includes a stainless-steel brush wash cup set.