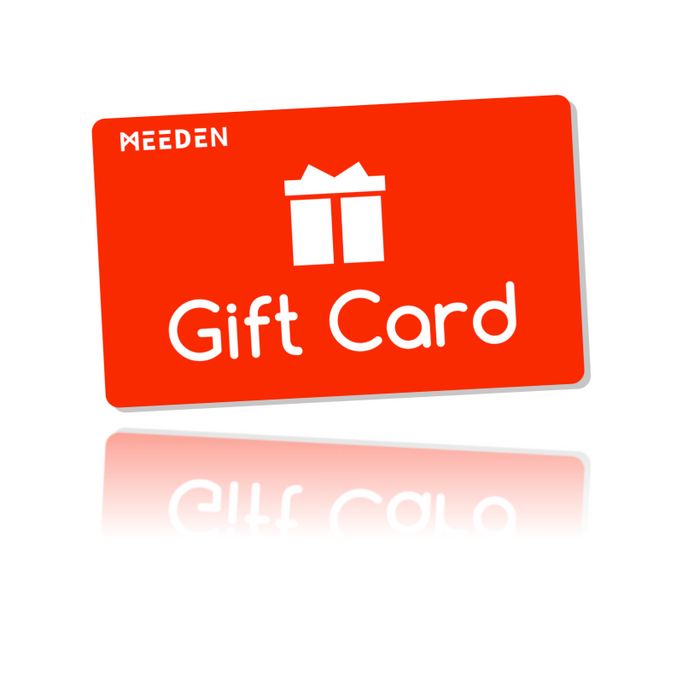 MEEDEN E-Gift Card
Original price
$10.00
-
Original price
$500.00
Looking for the ideal gift for the artist in your life? Look no further than MEEDEN Gift Cards, the ultimate way to inspire creativity and artistic expression!
Endless Possibilities: Our gift cards unlock a world of artistic potential. Recipients can choose from a wide range of art supplies, including paints, brushes, canvases, sketchbooks, and more. It's a gift that caters to every artistic passion.
Quality Guaranteed: MEEDEN is known for its commitment to quality. With a MEEDEN Gift Card, you're giving the gift of top-tier art materials that artists of all levels can rely on.
Perfect for Every Occasion: Whether it's a birthday, anniversary, holiday, or just a gesture of appreciation, MEEDEN Gift Cards are a thoughtful and versatile choice for any celebration.
Personalized Gifting: Choose the gift card amount that suits your budget and the recipient's needs. Add a personal message to make it even more special.
Convenient Delivery: Our gift cards are available for instant electronic delivery, making last-minute gifts a breeze. Physical gift cards are also an option for that classic touch.
Artistic Freedom: Give the gift of choice and let your loved ones explore their artistic passions. With a MEEDEN Gift Card, they're free to create, experiment, and discover.
How to Redeem: Redeeming a MEEDEN Gift Card is simple. Recipients can visit our online store, select their favorite art supplies, and apply the gift card code at checkout. It's a hassle-free way to turn creativity into reality.
Terms & Conditions: MEEDEN Gift Cards have no expiration date and can be used for any product in our catalog.
Inspire artistic journeys and nurture creativity with MEEDEN Gift Cards. The perfect gift for artists, students, hobbyists, and anyone who loves to create. Give the gift of artistry today! 
*Note:
MEEDEN Gift Cards are available for purchase on our official website.

Our electronic gift cards will be activated within 24 hours of purchase. We kindly ask for your patience during this activation period. Thank you for understanding!
We are dedicated to providing a smooth and reliable shipping experience. If you have any questions or concerns regarding our shipping policy, please do not hesitate to reach out to our customer support team for assistance. Your satisfaction is our priority.
Order Processing and Shipping Times
Order Processing: We are committed to providing a seamless order processing experience. Orders are typically processed within 1-2 business days from the time of purchase. Please note that this may vary during peak seasons and promotional periods.
Shipping Locations: We maintain local warehouses in the United States, the United Kingdom, Canada, and Australia. However, due to varying warehouse capacities and product availability, some items may be shipped from our warehouses in Asia.
Delivery Times: Delivery times vary based on your location and the selected shipping method. Generally, local delivery times range from 3-7 business days. If your address is in a remote area, delivery may take slightly longer. For products shipped from our Asian warehouses, please allow approximately 2-3 weeks for delivery.
Shipping Carriers
We partner with a variety of reputable shipping carriers, including UPS, USPS, DHL, and Amazon Shipping, to ensure reliable and timely delivery of your orders.
Shipping Fees
Orders totaling $39.95 USD or more qualify for free shipping.
For orders below $39.95 USD, a $5 USD shipping fee will be applied.
For more information about our shipping and return/refund policies, please refer to the Shipping, Return & Refund Policy page.
Blog posts
In this post, we will introduce you to how to choose the right watercolor paper based on four dimensions: texture, material, thickness, and acidity.  By understanding these aspects, you will be equipped with the knowledge to make an informed decision when choosing watercolor paper that suits your artistic style and preferences.

Read now

At MEEDEN, we believe in the profound connection between art and the tools that bring it to life. Each brushstroke, each sketch, and every stroke of the palette knife is an expression of your artistic journey. We believe in providing...

Read now

Halloween is just around the corner, and what better way to celebrate than with MEEDEN's spooktacular giveaway event? Get ready for a chance to win some fantastic treats this Halloween season, with no tricks involved. MEEDEN has a thrilling surprise...

Read now