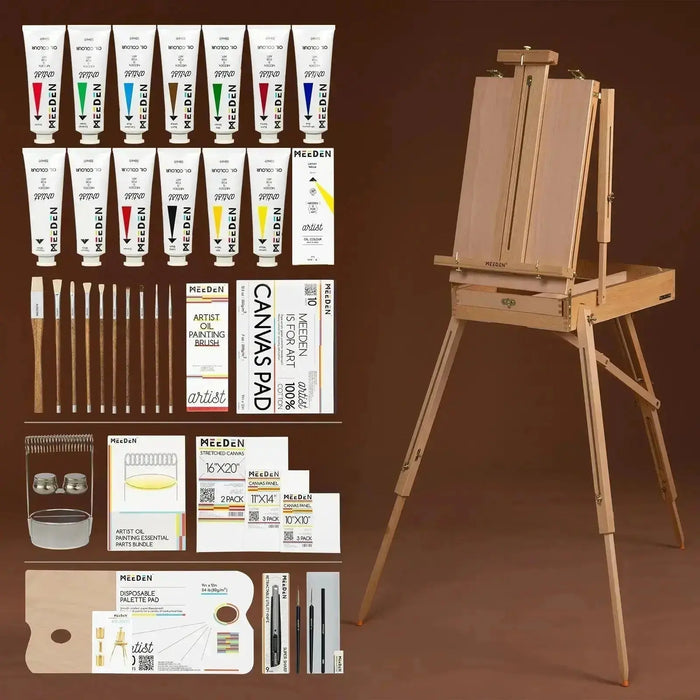 MEEDEN Artist Oil Painting Set, 13 Tubes, 50 ml / 1.69 oz
Original price
$179.95
-
Original price
$179.95
🎨 Complete Oil Painting Kit - The MEEDEN Artist Oil Painting Kit is a comprehensive package designed for artists, particularly those with a passion for art. Inside the thoughtfully crafted gift box, you'll find everything you need to begin your artistic journey safely and conveniently.
🎨 Timeless French Easel - Our classic French easel is constructed from solid German beechwood and features anti-rust galvanized hardware, ensuring its longevity. It accommodates various canvas sizes with ease, thanks to the adjustable top and lower sliders that can handle canvases of all dimensions. The easel's adjustable angle, ranging from 0° to 90°, provides flexibility in your creative process. Its spacious inner storage drawer and exterior leather handle make it perfect for artists who are always on the move.
🎨 Artist-Grade Paints & Canvas - MEEDEN's artist-grade oil paints, introduced in 2022, consist of only the finest pigments and medium (seven 100 ml tubes). These paints boast a creamy consistency and the perfect amount of oil content, achieved through meticulous grinding and thorough mixing, ensuring optimal performance in your artistic endeavors. We've also included a variety of canvas sizes and canvas pads, making it easy for you to dive into your art without hassle.
🎨 Enhanced Brush Set - Our brush set, meticulously handcrafted with premium bristle and solid rosewood, includes ten brushes of various sizes and types. This set empowers you to create your desired brushstrokes effortlessly. The use of high-quality rosewood and ergonomic handles enhances the overall painting experience. As a bonus, the set includes a stainless-steel brush wash cup for your convenience.
Elevate your artistic journey with the MEEDEN Artist Oil Painting Kit. It's time to start painting your masterpiece with confidence and ease! 🎨🖌️