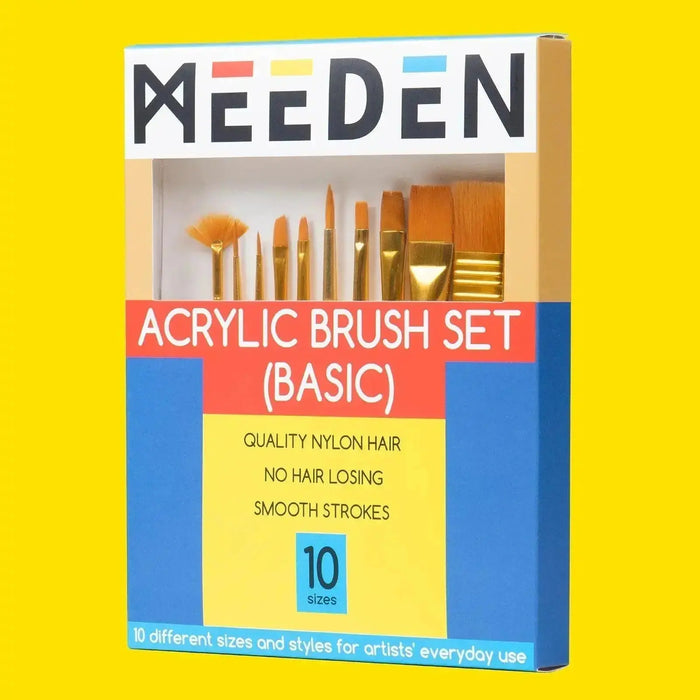 MEEDEN Acrylic Paint Brushes Set of 10 Pcs
Original price
$14.95
-
Original price
$14.95
VARIOUS TYPES AND SIZES: Through taking pieces of advice from pros and analyzing previous user experience, MEEDEN watercolor paintbrush set now includes 10 different sizes and types for all techniques in watercolor. Flat, filbert, fan, detail, you name it!

QUALITY MATERIALS: The hair is made of quality nylon and is firmly ferruled to the rust-resistant aluminum sleeve. Through multiple reinforcement processes, hair would never shed with regular maintenance and proper use.

VERSATILE FEATURES: As a set for oil painting, the hair's softness can easily create the smoothest strokes and be profoundly easy to clean. As a tool for acrylic painting, its color picking and delicate hair order are 100% competent. And for watercolor, the materials can maximize water absorption.

ART ESSENTIALS: MEEDEN doesn't see brushes as consumables that always need to be replaced. So paired with a multi-finished wooden handle, we built the brush set for years of use. Like your enthusiasm for art and friendship with artistic friends, MEEDEN 10-piece brush set is always solid and trusted.