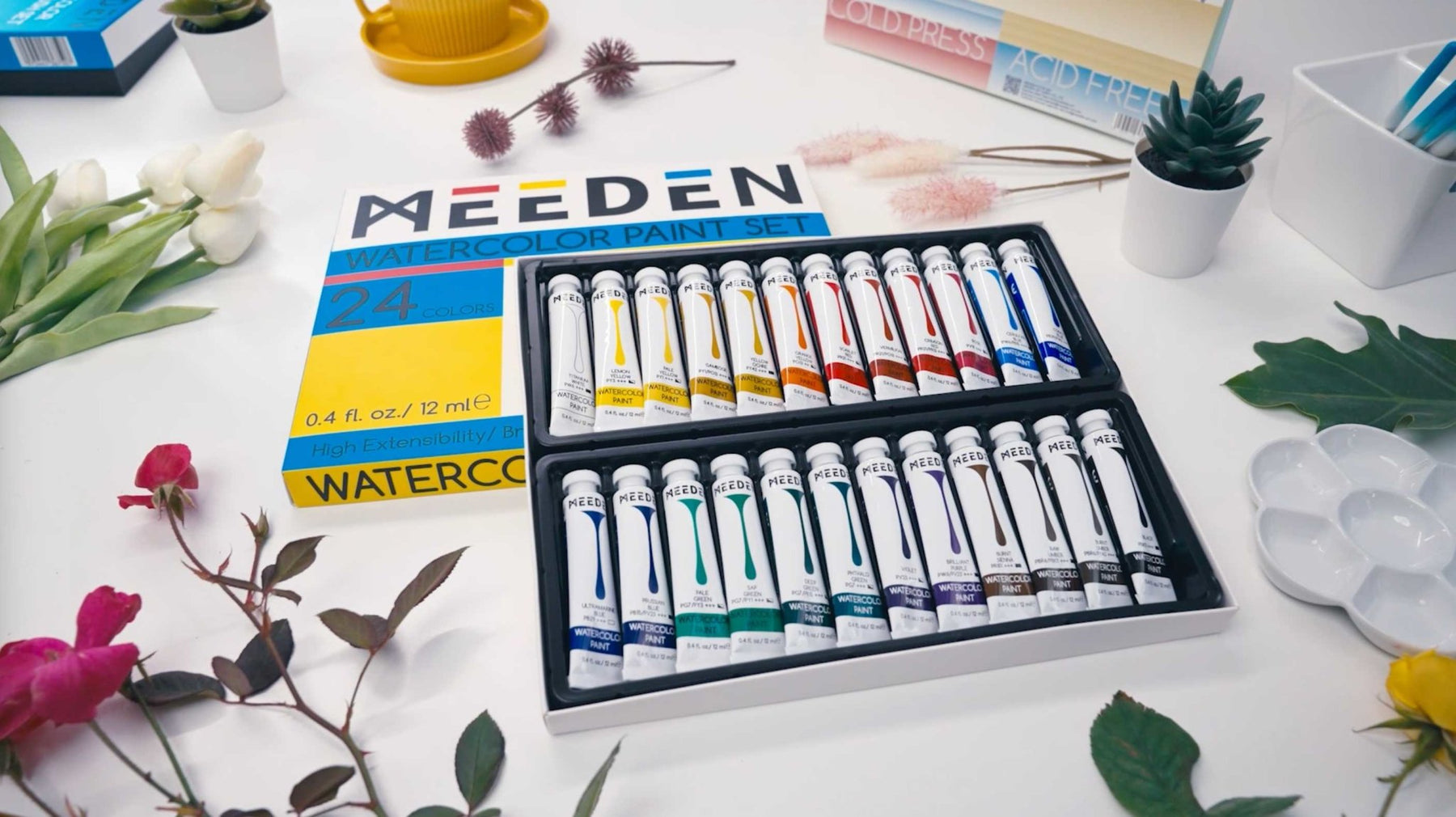 Why MEEDEN Watercolor Paint?
Watercolor painting is a unique and beautiful style of art that requires a distinct set of tools, and MEEDEN has provided the ideal solution for anyone looking to explore this lovely medium. However, there are other well-known brands providing high-quality watercolor paints, such as Winsor&Newton, Daniel Smith, Van Gogh, etc. Why choose MEEDEN? Let's explore the competitive advantages of MEEDEN watercolor paints in this blog post.
1. Perfect Choice for Watercolor Beginners
Are you a watercolor beginner or an enthusiast? MEEDEN watercolor paint is the perfect introduction to the world of watercolor painting for novices. Set of 24 vibrant colors, with 12ml in each tube, providing a wide range of color-mixing options you need to get started with your painting.
As we know, to begin learning a new technique or new skill, we need to constantly imitate and practice before we have our own understanding and become pros. While the MEEDEN watercolor painting only costs $16.95, which means $70 cents for each 12ml tube! So why don't we choose MEEDEN watercolor paint to lower our learning costs?
2. High-quality with Competitive Price
Cheap means not good, that is a very preconceived notion for many people. How about the case with a product that has pretty high quality at affordable prices? MEEDEN watercolor paint can provide this! It is made of raw and classic pigment powder to create the most nature-spreading watercolor effect. You can find dreamy, consistent, and watery features in the MEEDEN watercolor set as those traditional watercolors do.
In addition, we have sent our watercolor paint samples to many watercolor artists and influencers to test, in order to receive the most honest reviews and feedback, which might help us better develop our products. Compared with other well-known brands, MEEDEN watercolor paint has a lot of space for improvement, but within the same price range, our quality and price are already superior. We don't want our product becomes one of your options, we want it to be your best choice!
3. Good Performance in Watercolor Painting
Color vibrant, luminosity, translucency? MEEDEN watercolor paints can offer. High intensity, great blending effect, high transparency, water dissolvability? These effects could be found with MEEDEN paints.
No matter how much I advise, the actual painting will be more convincing. I would like to suggest you follow our social media account (Instagram, Pinterest, Youtube) to view more, we will post our and other influencers' paintings daily, which are all created by using our products. You can also find some interesting and creative watercolor ideas there. If these paintings reach your expectations, MEEDEN can help you start your artist journeys.
4. Guarantee of Product Safety
MEEDEN watercolor paint is appropriate for all ages, from art watchers to seasoned artists and toddlers to the elderly, product safety concern is always the first priority. MEEDEN watercolors are certified to AP, CE, and ASTM D-4236 standards and comply with solvent-acid-free, harmless elements and 100% environmental principles. NON-TOXIC.
MEEDEN is for Art. MEEDEN is for you. We are committed to providing our customers with the best possible services and products and gaining the recognition of our users. Thank you for reading and supporting us, and we look forward to exploring future journeys with you.